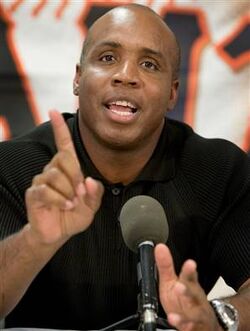 Barry Bonds is one of the celebrities to make an appearance on H8R.
Barry Lamar Bonds is an American former Major League Baseball outfielder. Bonds played from 1986 to 2007, for the Pittsburgh Pirates and San Francisco Giants. He is the son of former major league All-Star Bobby Bonds. He debuted in the Major Leagues with the Pittsburgh Pirates in 1986 and joined the San Francisco Giants in 1993, where he stayed through 2007.
Bonds' accomplishments during his baseball career place him among the greatest baseball players of all-time. He has a record-setting seven Most Valuable Player awards, including a record-setting four consecutive MVPs. He is a 14-time All-Star and 8-time Gold Glove-winner. He holds numerous Major League Baseball records, including the all-time Major League Baseball home run record with 762 and the single-season Major League record for home runs with 73 (set in 2001), and is also the all-time career leader in both walks (2,558) and intentional walks (688).
Bonds has led a controversial career, notably as a central figure in baseball's steroids scandal. In 2007, he was indicted on charges of perjury and obstruction of justice for allegedly lying to the grand jury during the government's investigation of BALCO, by testifying that he never knowingly took any illegal steroids. The trial began March 21, 2011. He was convicted on April 13, 2011 on the obstruction of justice charge.